The Mother's Day Shopping Spree event at Mims Manor was cancelled.  Sorry, some things are beyond my control.
In my alternate life, I'm an author. One of the great things about authors is the support we show for each other. Each May, Brenda Novak hosts an auction to support Diabetes Research.  This year, I've donated a set of Flower Chain jewelry – Item #3316275. You'll find lots of different items: jewelry, autographed items, gift baskets, events with authors and books.
http://brendanovak.auctionanything.com/Bidding.taf?_function=detail&Auction_uid1=3316275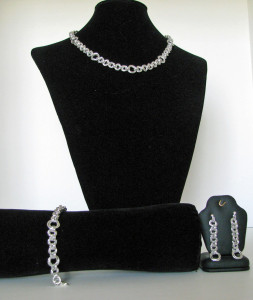 The winner of this auction will receive An elegant jewelry set consisting of a 19″ Necklace, 8″ Bracelet and 2″ Post Earrings. Handcrafted by joining together aluminum jumprings in an altering sequence of small and large flower chain patterns from Beth Caudill of Starlight Falls Designs.